JS-7
| ADJUSTABLE- DEPTH DOZUKI SAW
Our JS-7 Adjustable-Depth Dozuki Saw is two saws in one and each precisely restricts depth of cut. One side features sixteen teeth per inch, and the other twenty-four teeth. (In comparison, our JS-1 Dozuki is a 32 TPI saw.) This combination will work in all hardwoods and softwoods, and makes laser-straight cuts. The body is .25mm thick (.0115"), the kerf width for both sides is approximately 0.5mm (0.020") and the maximum depth of cut is 1- 11/16".
Setting the JS-7 cutting depth is a snap (the hex key is conveniently stored in the rear of the handle) and depth of cut is indicated on the saw body by a 32nds scale for either tooth configuration. With no possible way to foul the depth of cut, our JS-7 Adjustable-Depth Dozuki Saw encourages a full "pull stroke" making sawing more efficient and much faster. We believe you will find the JS-7 at least twice as fast than any other saw for repeatable cuts.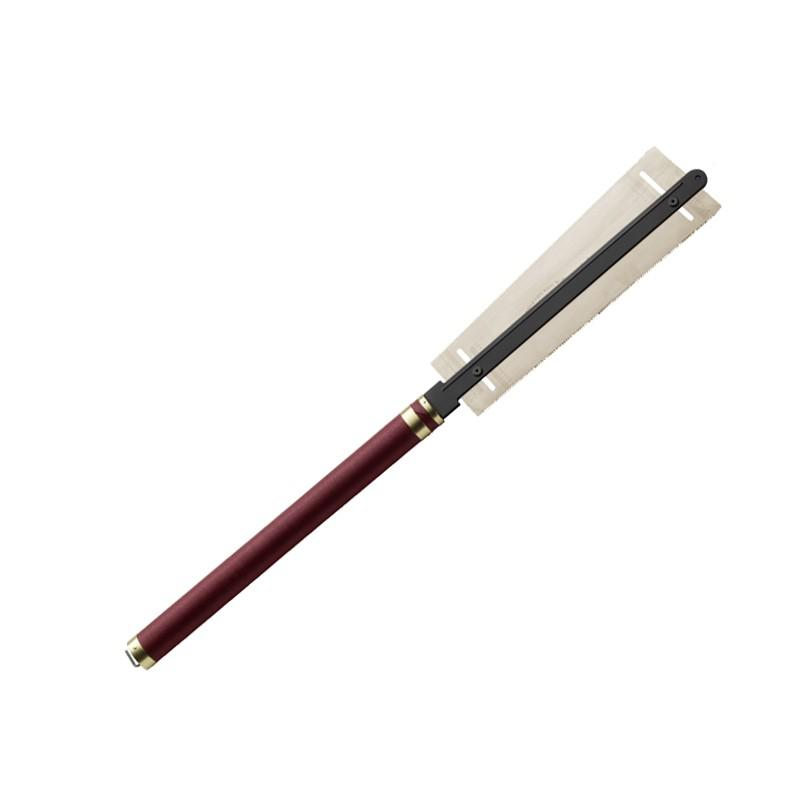 JS-8
| RIP/CROSSCUT KATABA SAW
We love this saw-it cuts either with or across the grain! This 18TPI saw features a pattern of seven crosscut teeth followed by a deep gullet rip tooth. It is the only saw we recommend for deep cheek cuts that cannot be made with a back saw. You will love using this saw in you shop, it is efficient, fast and simply fun to use.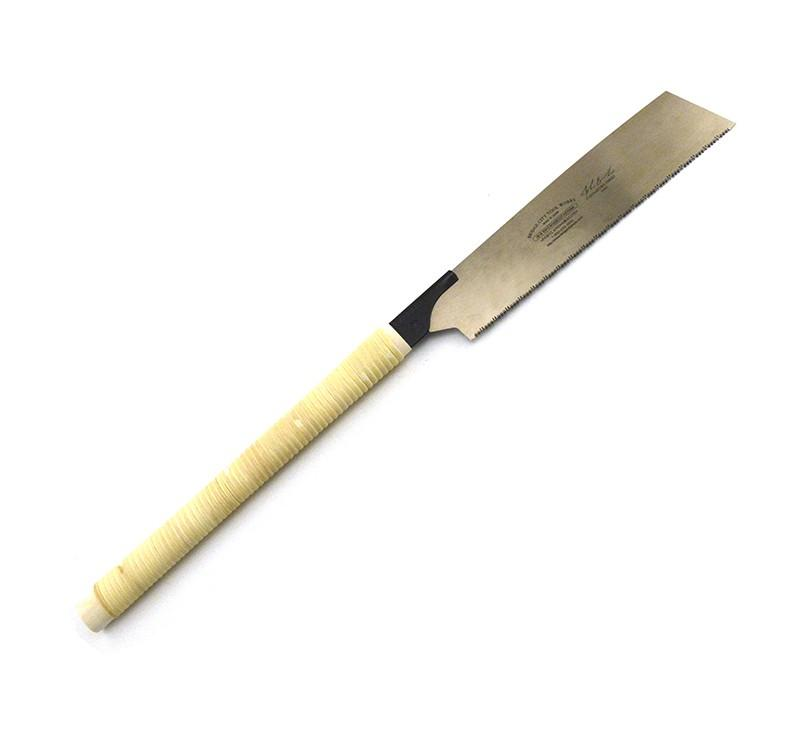 HP-7
| FOXTAIL SHOULDER PLANE
The shoulder plane is one of the most essential planes in your shop—it will quickly and accurately allow you to make gallery-quality joints. We are pleased to share with you our new design of this very important plane—please meet the HP-7 Shoulder Plane.
Craftsmanship almost always depends upon having the right tool at the right time. As a member of the rabbet (or rebate) plane family, shoulder planes are designed to cut both face and end grain, making this plane uniquely suited for constructing perfect mortise and tenon joints, rabbet joints, chamfers, cleaning the bottom of dado joints and for use as a narrow, general purpose edge plane.
The HP-7 Shoulder Plane is a limited-edition Signature Series production run, signed by the tool designer, John Economaki.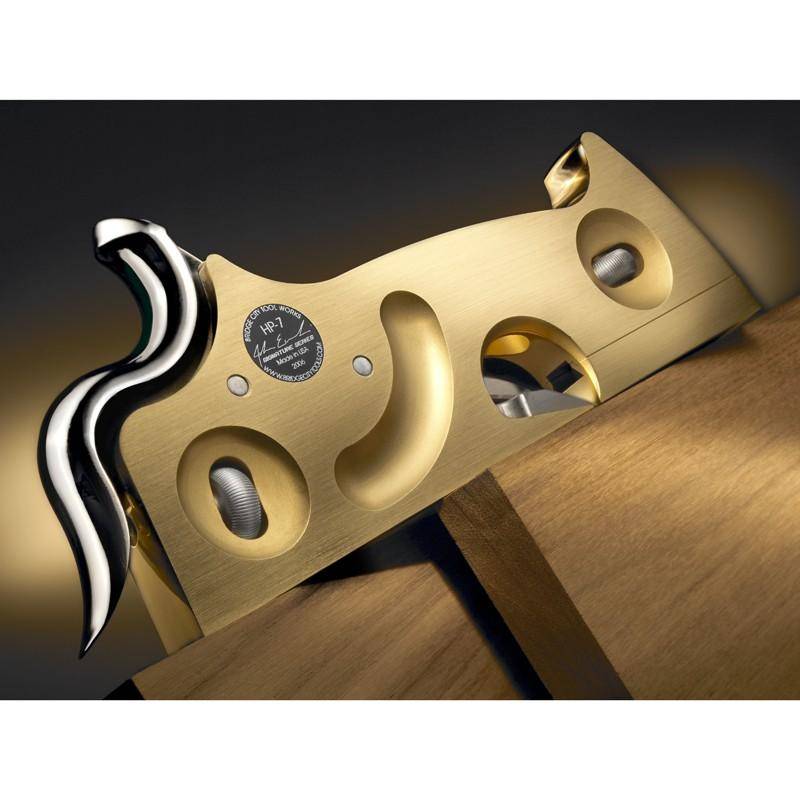 CT-14
| 1 1/8" FOXTAIL SHOULDER PLANE
Machined and polished from solid brass, this beautiful shoulder plane looks, feels and works like no other plane in American history—it is a stunning example of craftsmanship, a joy to hold and use, and very well may be the finest commemorative tool thus far. Unlike shoulder plane designs that share a European heritage, the CT-14 1-1/8" Foxtail Shoulder Plane was conceived with an unequaled passion for ergonomics. As the design process evolved, so did a new way of making, and using a shoulder plane.
The polished stainless steel "foxtail" seamlessly fits your hand and also serves as the iron locking lever. Most shoulder planes require you to disassemble the rear of the plane to extract the iron for sharpening— the CT-14 is just the opposite. When you lift the foxtail upward, the entire iron-locking mechanism releases in a graceful arc through the upper portion of the plane body. Slide the front sole forward and the iron is easily removed through the sole, no twisting or contortion movements required. Lastly, there are no tools required to adjust or lock the adjustable throat, making it the easiest-to-use shoulder plane available today.
This tool was produced in 2006.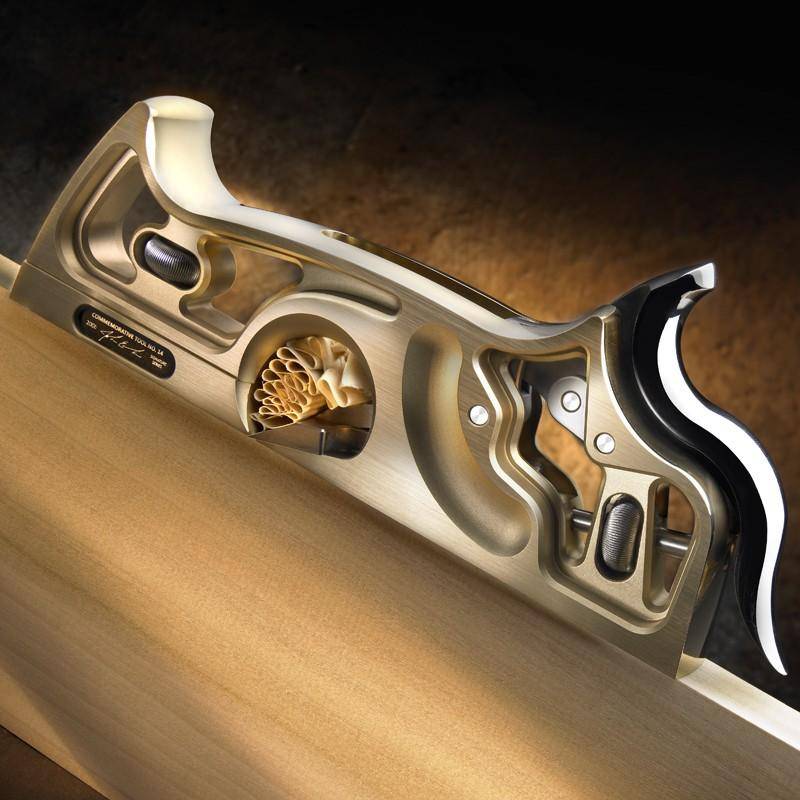 HP-6v2
| MINI
MULTI-PLANE
With this design change from teh HP-6 Brass Mini Multi-Plane Body, no tools are needed to change soles. While working on the re-design we also created a new fence system that does not need a hex key wrench to affix in place. This new fence is backward compatible with all wooden cheeks. The HP-6v2 is designed specifically to allow you to create details not practical with other methods. Imagine the joy of watching flawless profiles emerge from your stock while being able to hear music playing in the background. No extension cords, no 110 decibel 15 lb. router, no hearing protection, no burns or smoke. And of course, no sanding!
Please remember, ALL of the existing HP-6 accessories, such as soles, irons, and fences, will fit on the new HP-6v2 body — however, all new HP-6v2 profiles coming in the months ahead will only fit the new body style. No plane iron or soles come with the body.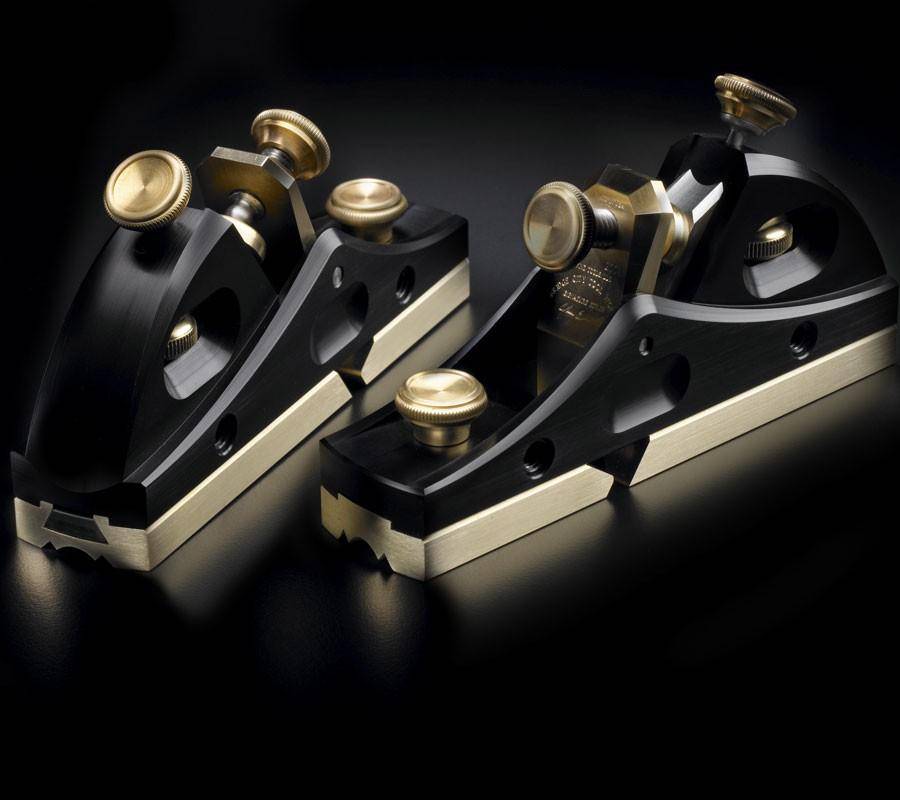 The Dead Blow Mallet allows you to precisely control the momentum of your cutting edge by applying the maximum amount of efficiency with the least amount of work. By any definition, this describes a useful tool!
Woodworking is often a persuading endeavor; persuading a joint to seat, a chisel to cut deeper, or a smooth finish from a carving tool....
All woodworking edge tools need momentum to accomplish their tasks when used by hand. Small chisels and carving tools can work effectively unaided; larger tools achieve the proper momentum only when accompanied by the rap of a hammer or mallet. Equally as important is the physics equation involved: the less recoil from the mallet, the more energy transferred to your cutting edge.
The Dead Blow Mallet consists of a hollow brass mallet head filled with lead shot. Firmly perched atop an inviting, rosewood handle, the Dead-Blow Mallet is an incredibly efficient tool for your shop. This style of mallet, commonly referred to as a "carver's mallet," is also ideal for bench chisel joint making, joint assembly and a myriad of other "persuasive" tasks.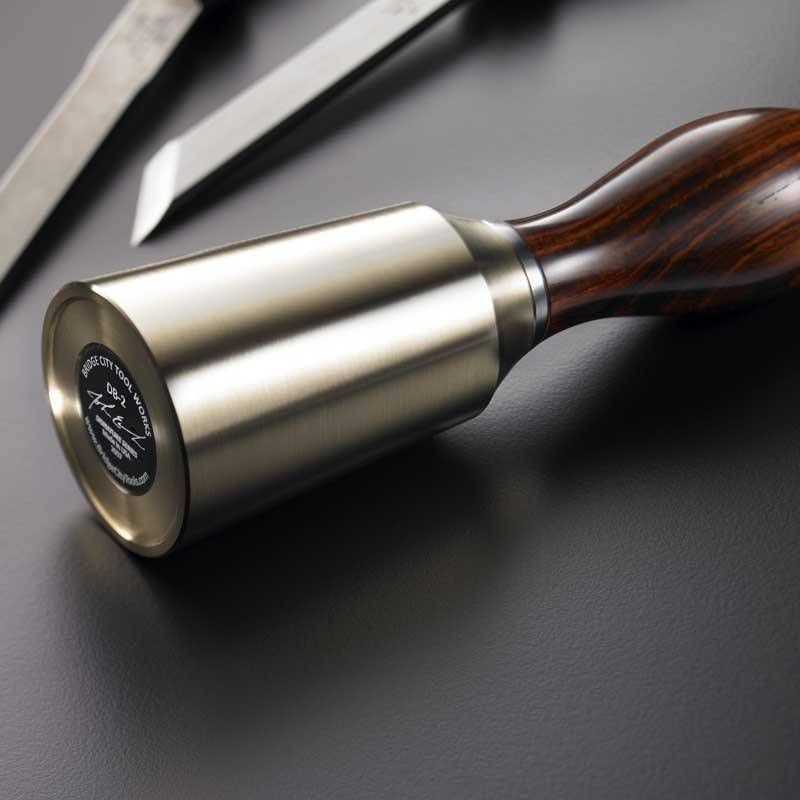 Our PV-2 uses a ¼" three-jawed chuck that enables you to grab and hold a wide assortment of tools and accessories for doing precise work. The keyless chuck works smoothly and locks firmly on all round and hex shapes (within the capacity of the chuck).
Each rosewood handle is turned and polished to exacting standards. The overall feel of the tool is balanced and the appearance is a fitting continuation to our family of heirloom tools.
Drilling, tapping, filing and countersinking are but a few applications for a pin vise. Holding metal components to a grinding or buffing wheel are very common applications. The chuck actually acts as a heat sink for those jobs where abrasion is the primary operation, sparing your fingers from a hot part and sparing your family from this word: "@#!/&%"! Any time you have had a small part ripped from your hand(s), you needed a pin vise. Any time you have dropped a hot metal part, you needed a pin vise. Any time you want to accurately work with small components, you need the PV-2 Precision Pin Vise.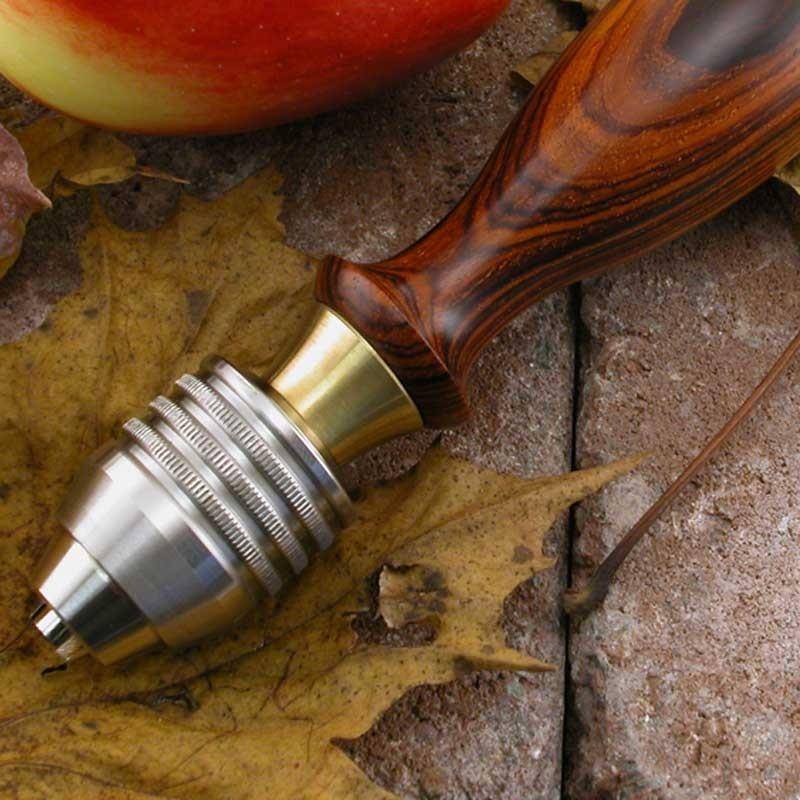 "It must be useful. It must work dependably. It must be beautiful. It must last. It must be the best of its kind."
These are the words of Alfred Dunhill and they have had a powerful influence over me for the last twenty-five years. It is always my objective to honor his view in every tool I design, particularly the tools in our limited edition Commemorative Series. As I think you will agree, the 2007 edition (yes, I am late—again) is a worthy addition to this family of heirloom tools.
What if your shop apron only contained a marking device, a pocket rule and the CT-15 Multi-Square? The answer is arresting; you could accomplish the vast majority of your layout needs and your machine set-ups in record time. Why? Because the CT-15 Multi-Square is one of the most innovative tools in the Commemorative Tool series, the likes of which you have never seen.
This little tool is packed with features; it contains an 8:1 dovetail saddle square, a 6:1 dovetail saddle square, a regular saddle square and a cam lock sliding t-bevel which can be quickly set as a try-square or a double square. It is one of the coolest looking and precisely machined tools we have produced and the first Commemorative Tool milled from solid stainless steel. The Multi-Square is approximately 4.125″ tall, .875″ wide and .73″ thick at its widest point. Precisely milled from solid stainless steel, this little tool is a joy to hold and a real treat to use. It is extremely precise, accurate, and the joints tight-fitting. We invented the Saddle Square years ago and it has always been amongst our top sellers. Now, for the first time, all of our Saddle Squares have been effectively and harmoniously combined in one tool with the most solid locking t-bevel you have ever used. When not in use, the CT-15 Multi-Square fits in your apron pocket or clips to your breast pocket—it is always with you. And just like your wallet, you will most certainly have a conniption fit if you misplace it.
This tool was produced in 2007.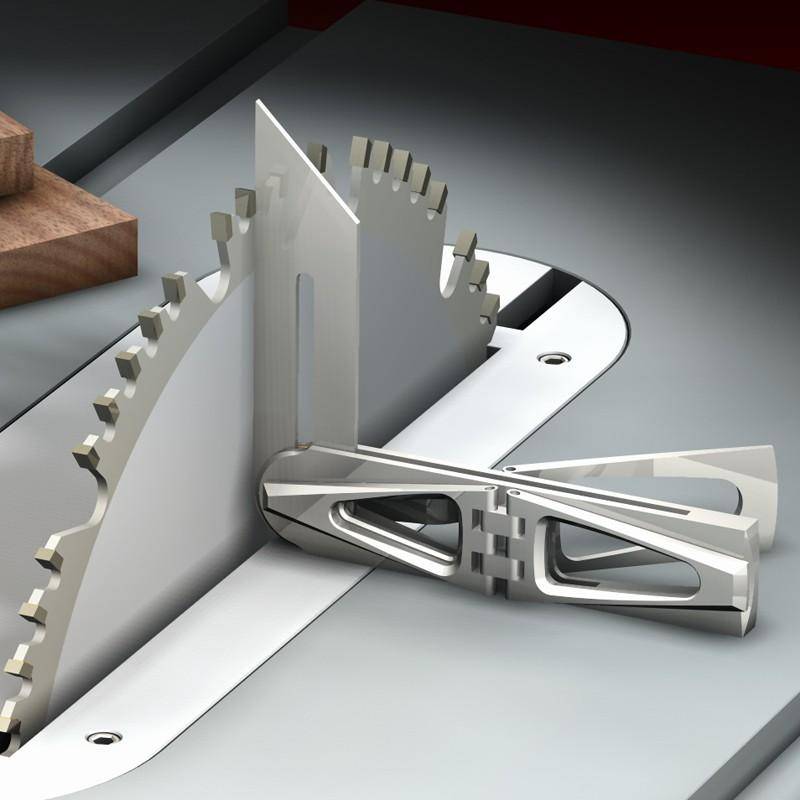 With the traditional "A-Frame" design that lets the user adjust the cutting edge by turning the thumbscrew in the back, our HG-1 Honing Guide is one of the most precise and easily adjustable Honing Guides on the market. Simply square the edge of the plane iron or chisel with the sliding "T-Square", extend the iron out to your sharpening stone, and tighten the clamp knob. You are now ready to fine tune the angle with the rear micro adjustment knob.
A few easy steps will give you accurate and repeatable results. Using the SUG-1 Set-Up Gauge (sold separately) with the Honing Guide gives you the same angle every time you sharpen. The Set Up gauge comes marked with 20, 25, 30, and 35 degree angles. Once the blade is clamped into the HG-1 to an angle close to what you want on the Set-Up Gauge, you can fine tune the angle with the precise rear knob. Check the squareness of the cutting edge with the built-in T-square. Now you can smoothly sharpen your blade through all of the grits you need. If you desire a micro-bevel on the edge, simply turn the rear wheel. No other blade adjustments necessary. One revolution of the knob adjusts the blade angle just under 1 degree. The HG-1 will handle blades up to 2-3/8" wide.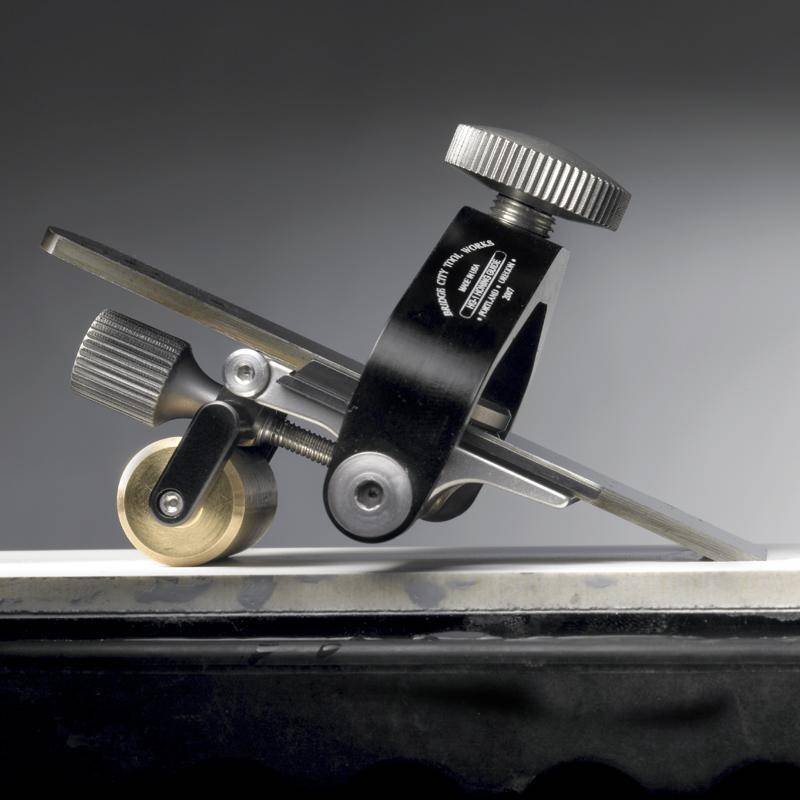 The Set Up gauge comes marked with 20, 25, 30, and 35 degree angles. Once the blade is clamped into the HG-1 to an angle close to what you want on the Set-Up Gauge, you can fine tune the angle with the precise rear knob. Check the squareness of the cutting edge with the built-in T-square. The HG-1 will handle blades up to 2-3/8" wide. Now you can smoothly sharpen your blade through all of the grits you need. If you desire a micro-bevel on the edge, simply turn the rear wheel. No other blade adjustments necessary. One revolution of the knob adjusts the blade angle just under 1 degree.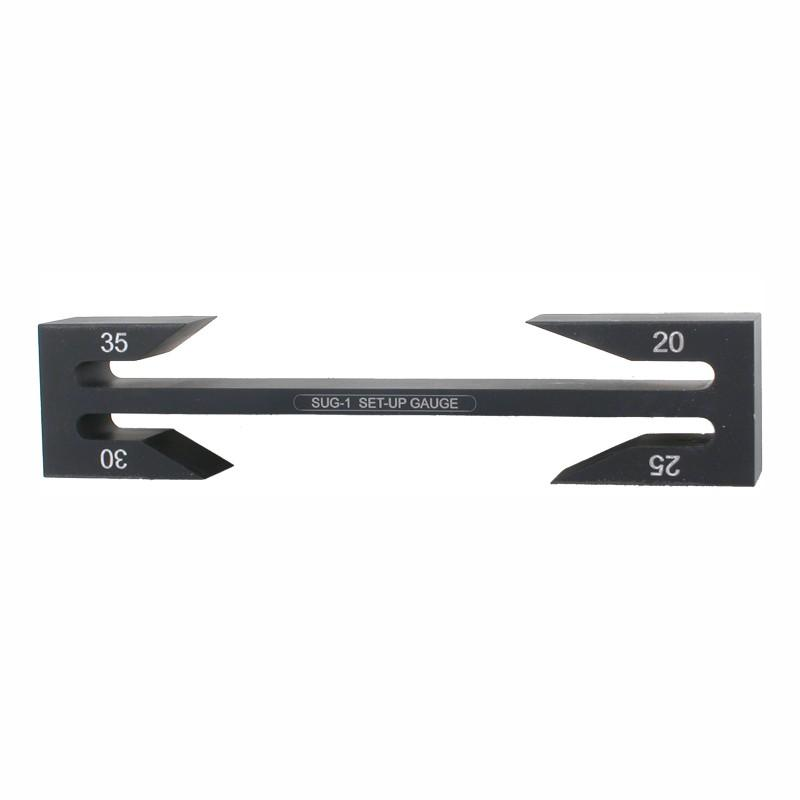 An update to our highly sought after CS-1 Centerscribe, quickly and easily find the center of a board without a single measurement.
• All machined, anodized aluminum.
• No gears. This uses stainless steel braided cable and pulleys for the mechanism. This will not be affected by weather and moisture.
• The CS-2 comes with a pencil and will hold mechanical pencils.
• The scribe point is easily replaceable.
• This can scribe a center line on stock up to 7.7" (195.5 mm) wide.
• Locate dead center on round stock up to 3" in diameter.
• Locate dead center on square stock 4-1/2" square.
• Quickly locate the centerline of tapered stock.
The CT-16 is without question the finest screwdriver we have ever used and it is particularly beneficial when inserting brass screws—you can precisely keep the bit where it belongs while feeling the exact torque to avoid trashing or twisting off the head of the screw. Drilling is remarkably fast and the bits are all positive locked in the chuck while exiting a hole. We have available all the common screwdriver bits, countersink bits, tapered bits, twist drills and brad point drills, self-centering bits for hinge installations and a countersink.
We guarantee that the CT-16 will be one of those tools that you feel compelled to show your woodworking friends. It works extraordinarily well and has a charm that is hard to match—and is a perfect candidate for our special Commemorative series of tools. There are many bits available today that will fit in the CT-16 and we selected 60 bit assortment, all made in America, that will address 99% of your needs within the capacity of this gorgeous tool. They were available as a seperate and optional Drill and Driver complete set.
This tool was produced in 2008.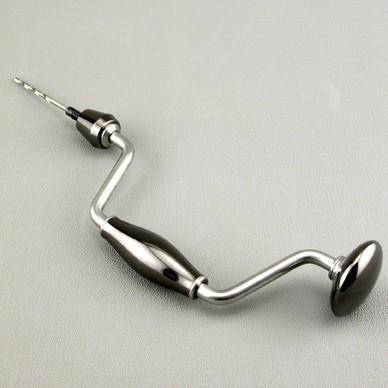 CS-2a
| MORTISE AND TENON ACCESSORY
With the CS-2 attachment, you can make perfectly centered layouts on mortise and tenons for various width stock without math!
For example, for a 1/2" width tenon, you simply set the attachment to 1/2" using the built-in scale, tighten, and scribe two lines. That's it! The 1/2" wide tenon will be dead center. (Offset tenons can also be easily produced by placing a shim on one side of the stock prior to scribing.) The CS-2 and its attachment are fast, unbelievably accurate, and fun to use!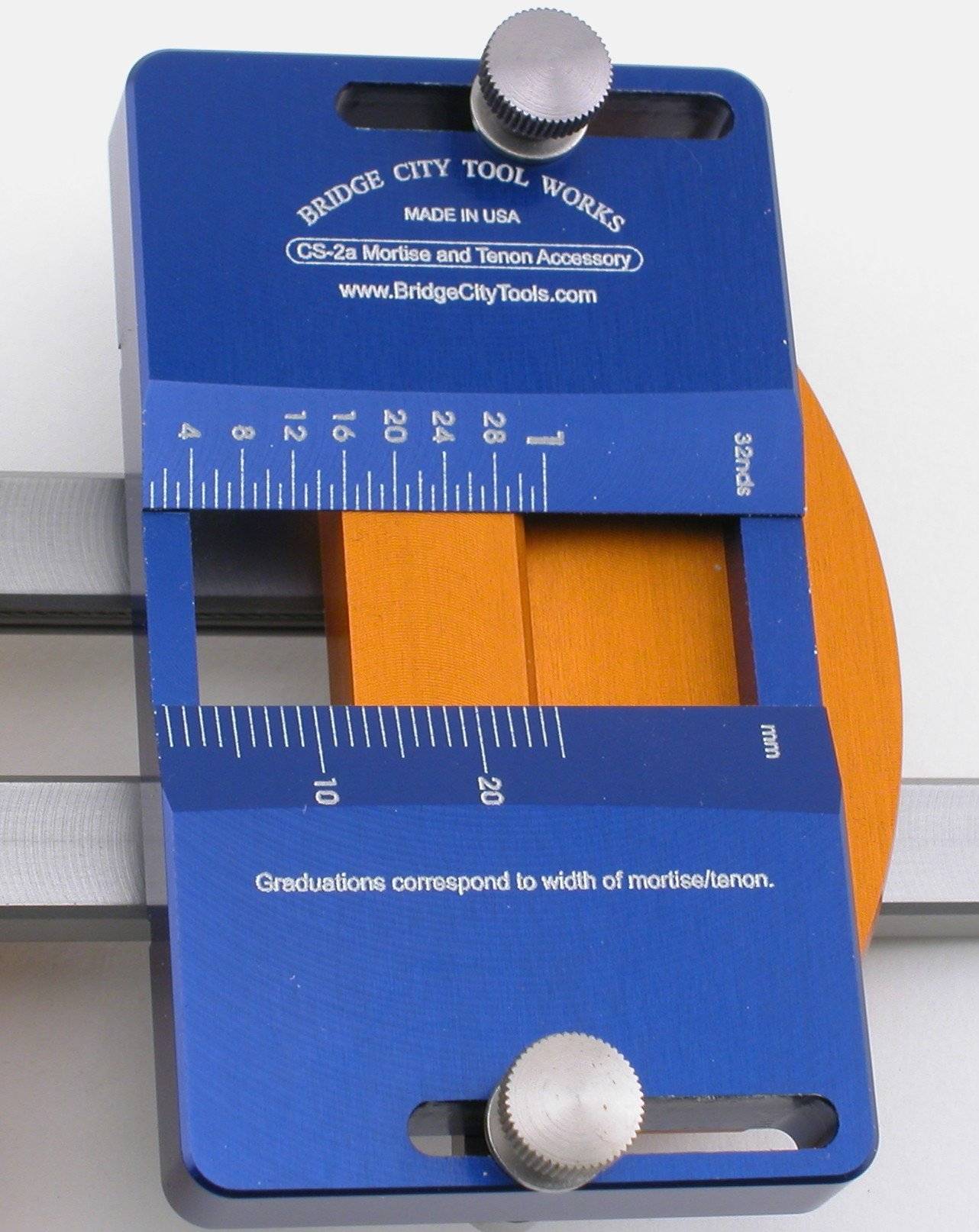 Using a zero backlash cable mechanism (it is impossible for one arm to move without an equal and opposite movement by the other), the DJ-1 is the most accurate drilling accessory available today.Because this device self-centers without thinking, it shines in step-drilling mortises and also works as a paring guide—your mortises no longer need look like they were made by other organic life forms… And if you remove one jaw (pin-indexed) the DJ-1 can be used as a paring guide for hand dovetails too. We designed the DJ-1 to appeal to woodworkers of all ability.
The DJ-1 unit is identical for both Imperial and Metric bushings allowing you to use either system interchangeably.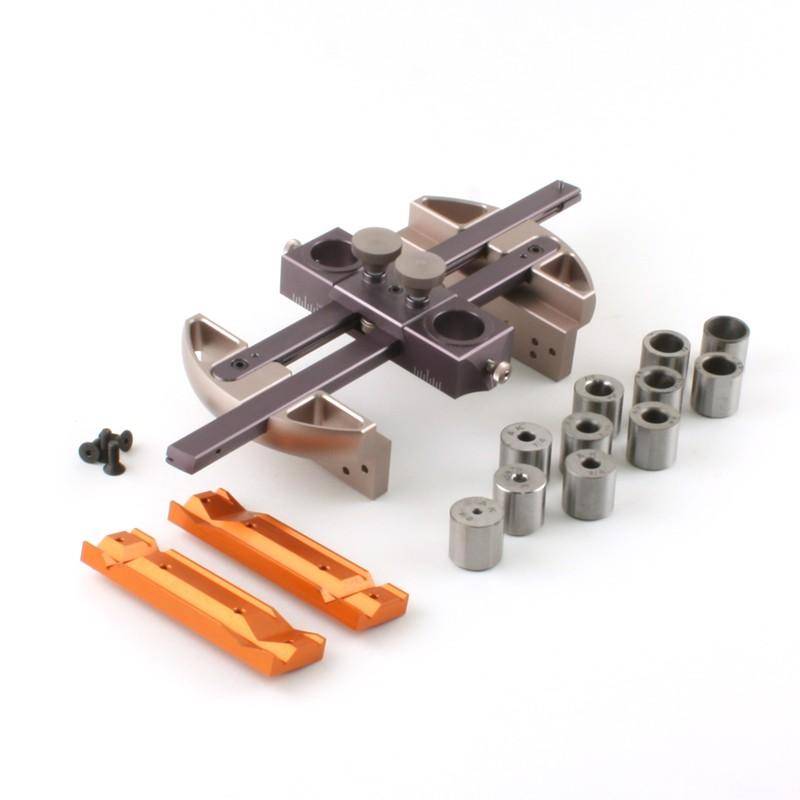 DSS-6
| DOUBLE SADDLE SQUARE
Made of machined stainless steel, this 6" double square is a must have. Double Squares are very practical on their own, but this one has a built in Saddle Square for transferring lines around outside corners. Beautifully finished, this square will last for generations without any tarnishing or rust.
The Ruler is easy to read Satin Chrome Plated steel, with only 1/16" and 1/32" graduations. The Metric has 1mm and .5mm increments. The English Metric has both.
This tool has been a favorite for all who already have it. Peruse photos of the various woodworking magazines and inevitably you will see the DSS-6 close by. The ruler itself is identical to our CS-6 combination square. Flipping the square from right to left gives you the same graduations...you don't end up with 1/8"s as you would with ordinary 4r rulers.
We modified the design of the hinge with this go around. Instead of the saddle have 2 "tongues" like in the pictures above, there will be just one. This will help create fewer defective parts for us. Drilling a hole of that size, to that accuracy, is difficult in stainless steel.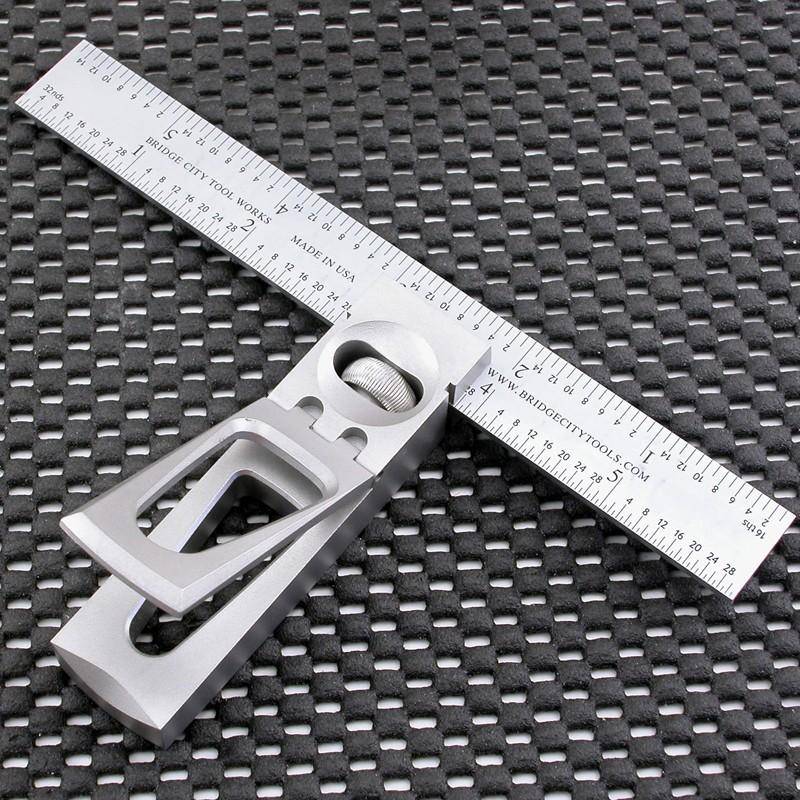 The KM-1 Kerfmaker simplifies the process of making very accurately sized dados, grooves, and/or half lap joints. Cuts grooves and dados up to 2'' wide.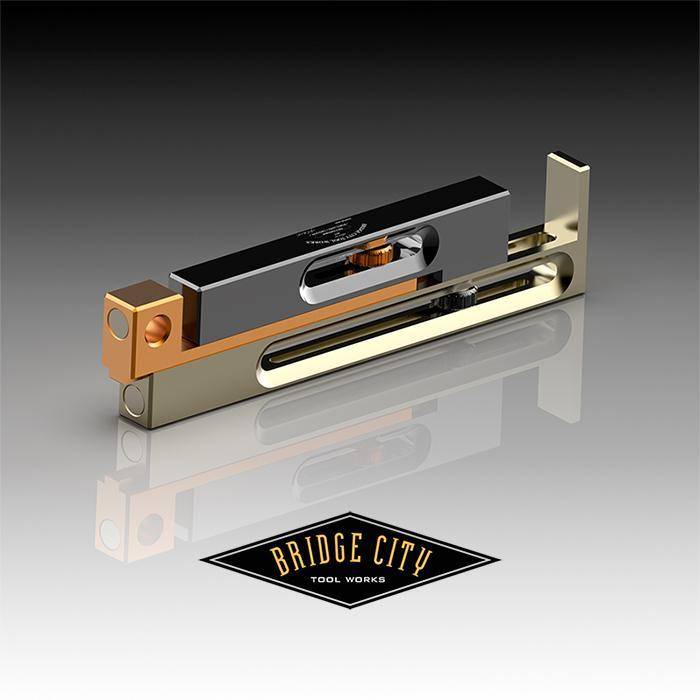 The MG-5 Marking Gage has two "business ends." Attached to one end is a circular knife used for scribing straight lines parallel to your reference edge. Firmly attached to the beam, this knife does not rotate during use. When dull, simply loosen the screw and rotate a new sharp edge into place (you can do this approximately 8-10 times before you need to hone the face of the cutter) and tighten in place. For most, this tool will never need to be re-sharpened. The beveled edge of the circular knife allows you to cut dead parallel lines without fear of cutter wander due to wood grain because the beveled edge "draws" the body of the MG-5 firmly against the reference edge. The other end of the beam features an adjustable point for scribing along a curved reference.
The depth of the scribing point should be set as shallow as possible to minimize chatter. Unlike scribing straight lines, curved work requires you to constantly maintain firm contact of the rubbing collars against the curved surface to minimize wander due to wood grain.
The MG-5 body is CNC turned from mild steel and is designed to fit hands of all sizes. Once turned, it is CNC milled to create the unique profile for holding the steel rub collars needed for curved scribing. The body is an elegant form that perfectly compliments the function. You will immediately appreciate the weight of this tool as you scribe straight or curved lines. It's one of those tools that always feels ready to work—the hallmark of a great tool. Now you can accurately layout curved tenons and many other joints where curves play a prominent role in the design or function. The final touch is the black nickel plating that offers amazing wear resistance and an aesthetic that will stop you in your tracks.
The beam is turned and milled from 303 stainless steel. It is then electro-polished to give a smooth clean feel. The working distance for straight lines is three inches. For curved work, the rubbing collars will work on any curved surface with a one-inch or greater radius. Working capacity is three inches. Finally, the beam, and the adjustable scribing pin are firmly locked in place with solid stainless steel locking knobs.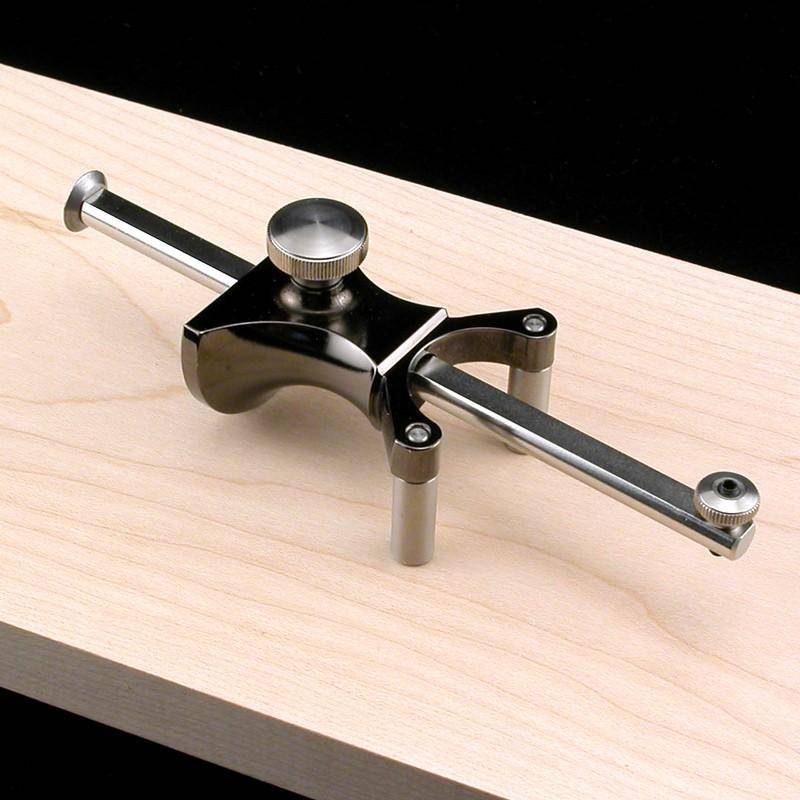 The JM-SW (Single Wing) is big news. Rather than utilizing two sliding tables that are bridged (for most cuts), this saw functions similarly to most sliding table saws--there is one sliding table and one static table. The Jointmaker SW features the same linear bearing system as the JMPv2 on one side and is opposed by a static, extruded aluminum table.
The Jointmaker SW is a hybrid device, a hand saw that employs custom Japanese saw blades offered in crosscut and rip grinds. The blade quickly attaches to a spine which is part of the blade adjustment carriage. The blade moves up and down via a hand-crank on the front of the machine and features an independent pitch adjustor. This combination allows for perfect crosscuts up to six inches in width and in material up to 1-3/4" thick. Small cross-sections like small moldings and dowels can be cut in one pass; the size of larger cross-sections and the hardness of wood will determine the number of passes for a through cut. In either case, the cut is unbelievably smooth and true. The kerf is only .021"— it is phenomenally efficient. It comes with one crosscut blade.
The JM-SW blade tilts 45 degrees in one direction, and 15 degrees in the other (for dovetail work). It will make all the cuts of the JMP and the JMP v2. The difference is in the jigging--edge miters for example, can only be cut accurately with the long face down. And there is a bit more thought for some cuts where the falloff needs to be supported. The video BELOW illustrates the most common joints this tool can make with you as the motor. The JM-SW uses the same blades as the original JMP, the new JMP v2 and has the exact same cutting capacity of the JMP v2 but occupies a smaller footprint. Crosscut capacity is up to 6 inches (152.4 mm) in width and maximum depth of cut is 1-3/4" (44.5 mm). The extruded aluminum static table features two t-nut grooves (holds ¼" nuts) and one standard 3/8" x 3/4" miter gage groove. This will allow you an easy way to attach shop made cut-off stops or sliding fixtures that need to track with the sliding table. The JM-SW is robust and built to last for multiple generations.
Traditionally, wood is held in a vise or clamped to a bench and then cut with a handsaw. These cuts are then perfected with chisels, planes or other methods. With the Jointmaker SW, your stock is rigidly held on the linear table (there are various methods depending on the type of cut). All you do is provide the easy back-and-forth motion. Between each stroke, you adjust the blade height for the next cut (if necessary). It may sound complex, but after a few practice cuts you'll find yourself in a rhythm, where all of this happens quickly and without thought. More importantly, the resulting cut is so smooth it is hard to believe—and achieved with very little noise, no electricity and there is absolutely no need for shooting boards, router planes or chisel work to perfect the cut surfaces.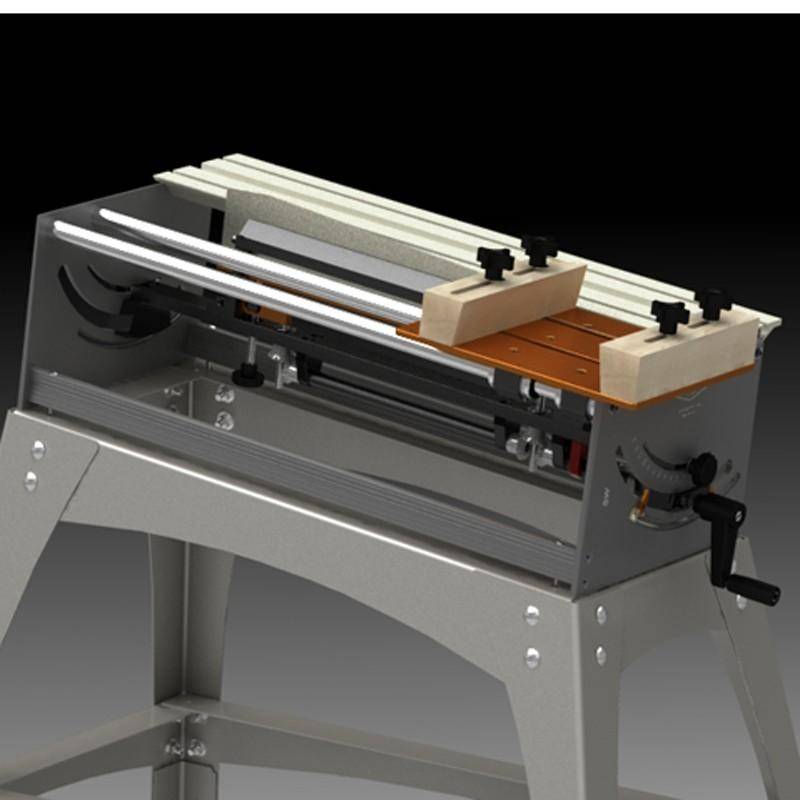 A height adjustable stand for the JM-SW.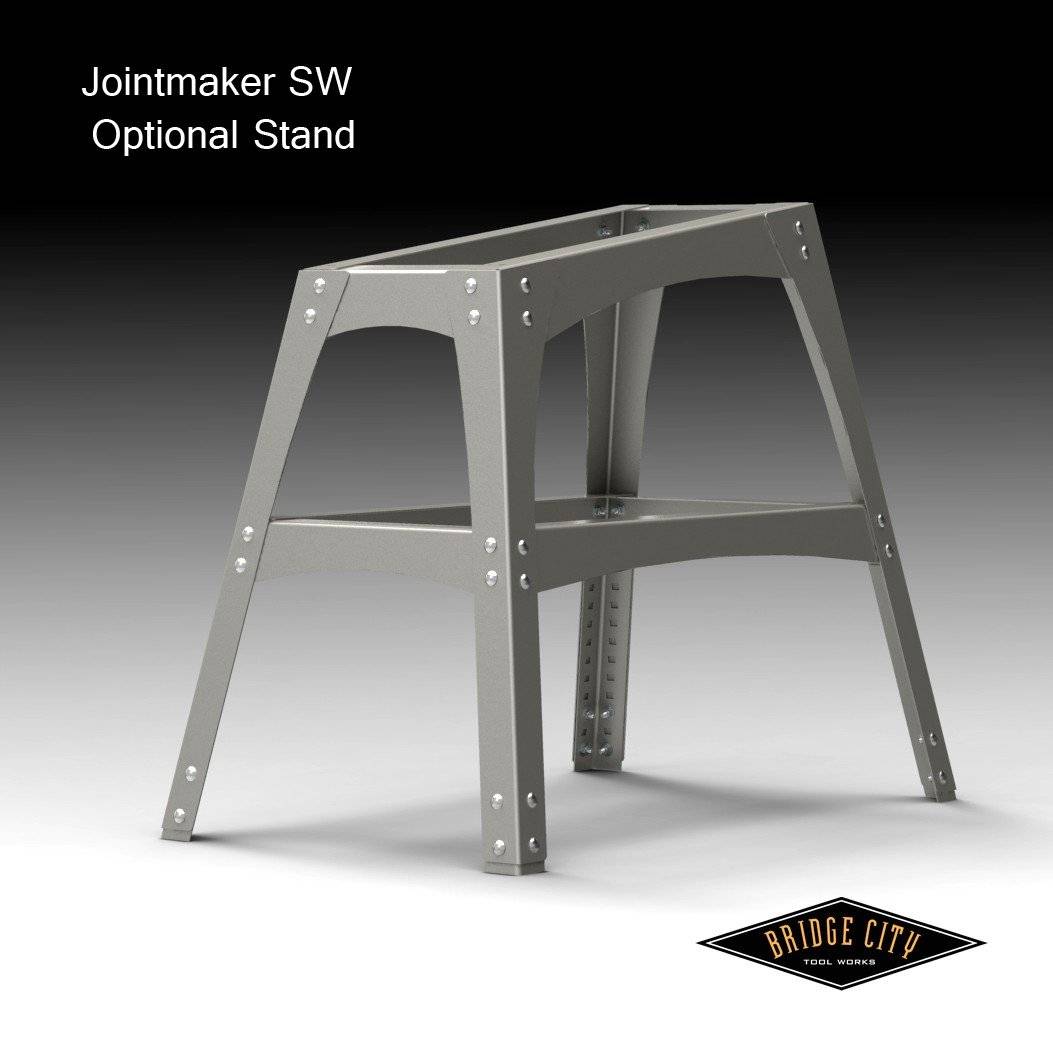 The Jointmaker Pro v2 holds a custom Japanese saw blade rigid and straight while your clamped wood is pushed through the blade to make the cut. With everything held securely, the resulting cut is perfectly straight and extraordinarily clean.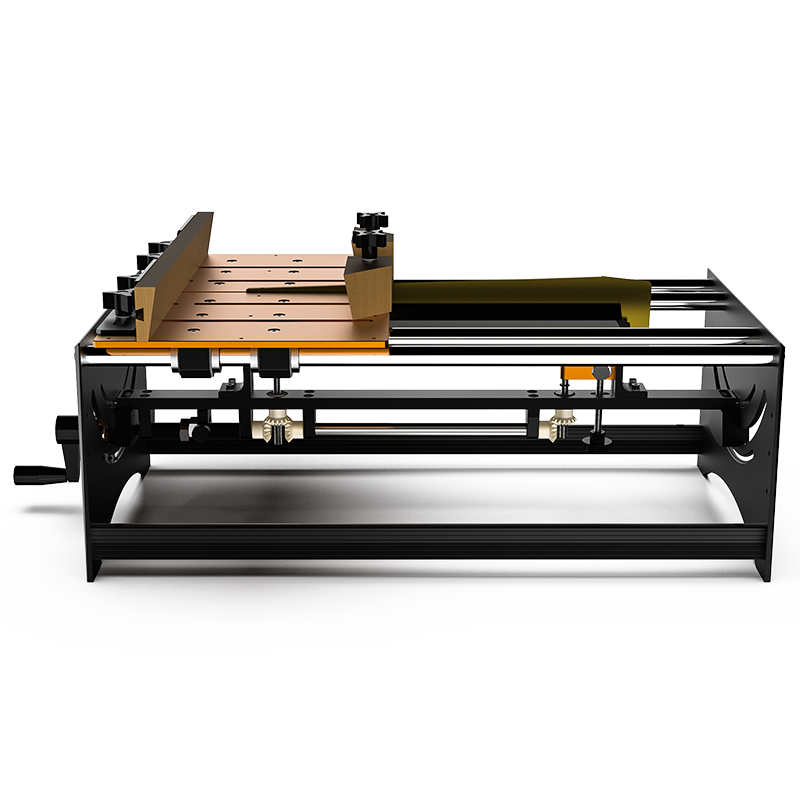 ASP-25
| 25th ANNIVERSARY SHOULDER PLANE
Made from solid stainless steel, the ASP-25 Anniversary Shoulder Plane was offered exclusively to Founder's Circle members and had a limited production run of 50.
The polished stainless steel "foxtail" seamlessly fits your hand and also serves as the iron locking lever. When you lift the foxtail upward, the entire iron-locking mechanism releases in a graceful arc through the upper portion of the plane body. Slide the front sole forward and the iron is easily removed through the sole, no twisting or contortion movements required. Lastly, there are no tools required to adjust or lock the adjustable throat, giving it hours of easy and comfortable use.
This tool was produced in 2009.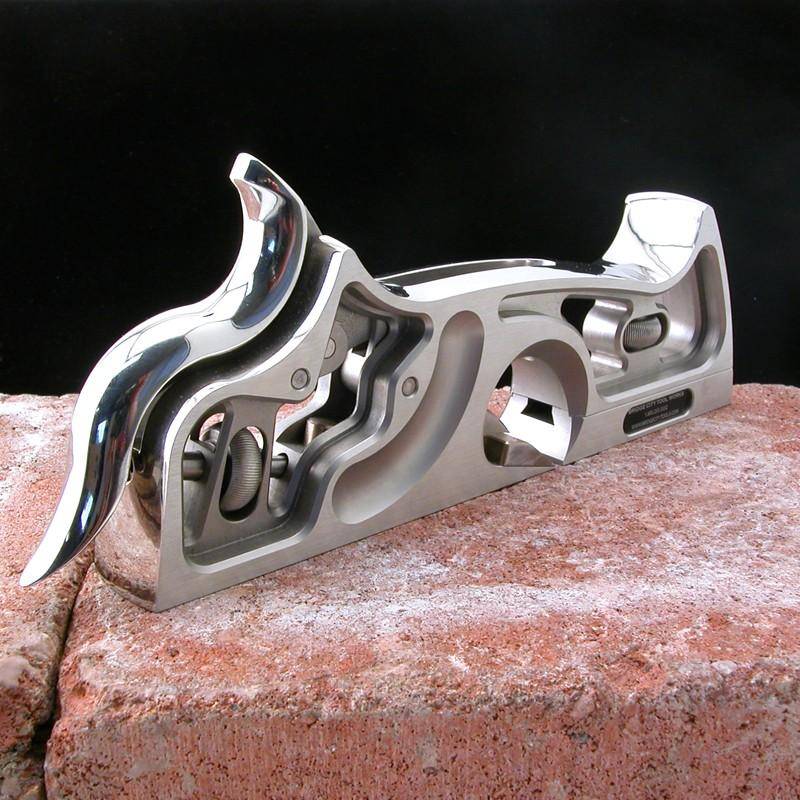 CT-17
| DUAL ANGLE BLOCK PLANE
The CT-17 Dual Angle Block Plane features an integral aluminum blade guard. While the blade is in the plane body, the non-business end of the iron is safely protected—as are your hands. When the iron is removed for sharpening, the blade guard is secured to the opposite end with rare-earth magnets making the double edged iron as safe as single edge irons. When the iron is bedded it is firmly clamped in place with a floating iron cap. There is zero need to true the cap planar to the iron. Cap tension is adjustable. Opening and closing this mechanism is simply fun. In use, the iron is adjusted with a modified Norris mechanism allowing for extremely fine blade advancement—one full revolution of the lead screw changes depth of cut by .03mm/.0013". Skewing the blade is accomplished by leveraging the sleek lead screw "knob" either left or right. We believe this little plane may be one of the most fun tools you will ever own.
Like all Commemorative Tools, we only made them once. And as a gesture of good luck, buried in the body of each CT-17 is a U.S. penny—it is a symbol of gratitude and a tangible gesture that celebrates the relationship we share with our customers who make this all possible.
This tool was first introduced in 2009.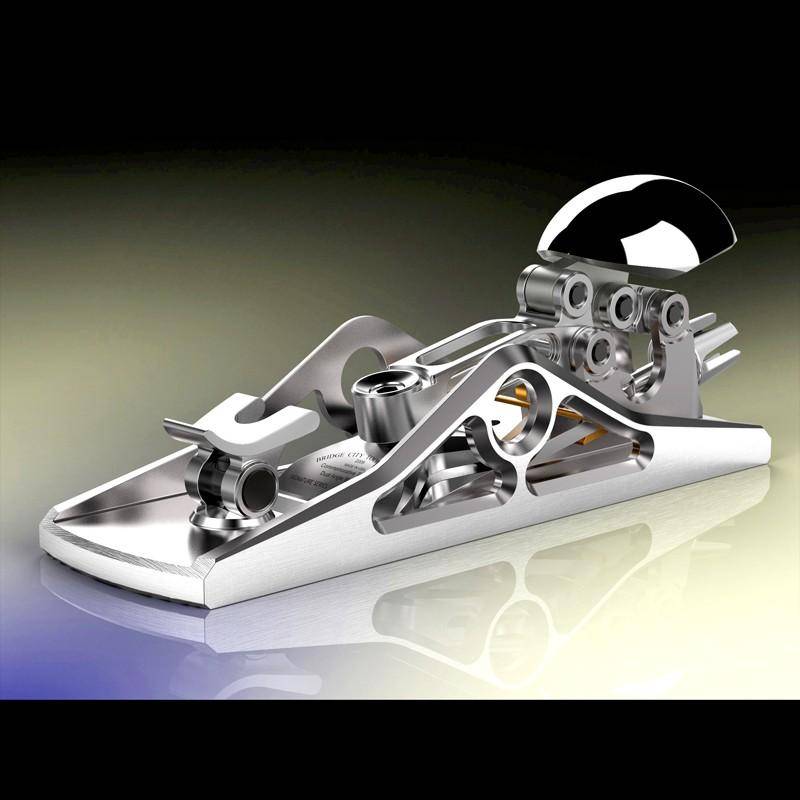 CS-12v2
| COMBINATION SQUARE
A good combination square functions as a square, miter square, depth gage, and a marking gage making it an indispensable reference in workshops the world around.
In 2010, we introduced the CS-12v2 Combination Square – a radical redesign of the iconic combination square originally invented by Laroy S. Starrett in 1877.
Milled from stainless steel plate stock, the body of the CS-12v2 Combination Square is sure to inspire your best work—and those of your heirs—for generations to come.
Two sculpted legs separated by a black web, this is one gorgeous tool that you will never want to loan to your pesky, cheap neighbor.
We lengthened both legs from their traditional design roots. The 45 degree leg is significantly longer to improve registration with your stock. This precision milled square head is equally at home with the 12", and 18"/450mm blade.
Each square is individually calibrated to be within .002" (.05mm) of 90 degrees measured at the end of a fully extended 18" (450mm)blade. The 12" Imperial blades feature left-to-right and right-to-left reading 32nds and 16ths. These blades are similar to our current CS-6/DSS-6 blades because you can flip the square over and view the same scale on the same edge. These blades have the industry standard layout with similar scales on opposite edges.
All graduations are chemically etched and black filled against a satin chrome plated background—they are easy to read and you should have no difficulties with clarity.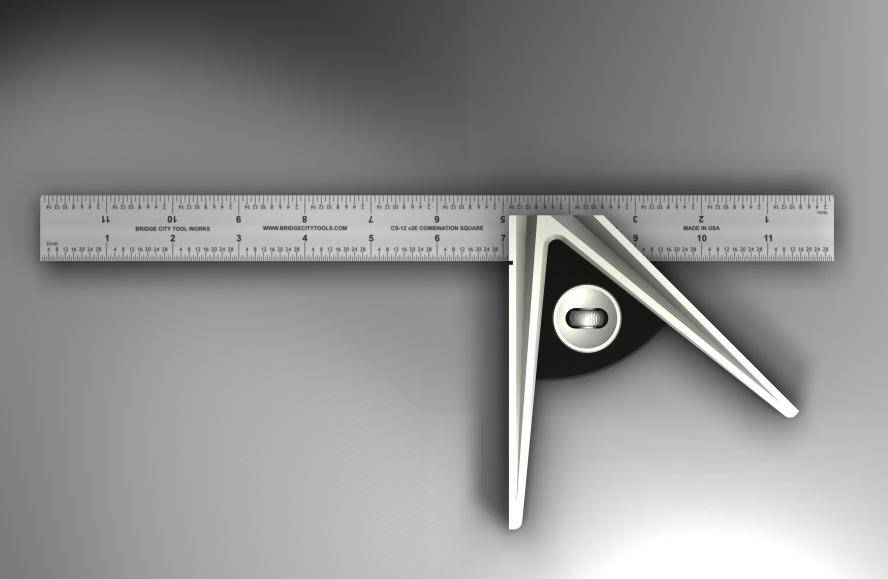 C3-300
| COMBINATION SQUARE
PB-9LE
| PLUMB BOB LIMITED EDITION
There are several interesting features to our PB-9 Plumb Bob. First and foremost, this tool is precisely turned from solid brass on a CNC lathe for extreme accuracy. Weighing 9.3 ounces, the PB-9 is the perfect size plummet for general purpose work.
Our plummet features a removable, stainless steel tip. Because plummets occasionally "plummet", it's comforting to know you can easily replace the point.
There are two features that make this tool extraordinary in comparison to others. First, this is actually two plumb bobs in one. And the second is the unique spool base in which the plumb bob comes to rest.
To create the second plummet, simply unscrew the finial and the point from the body and fasten them together. You now have a small, 1 ounce plumb bob for indoor use! No other plummet gives you this flexibility. Both are stunning works of art and perform flawlessly. Our knurled brass spool is an elegantly simple design that easily fits your thumb or forefinger allowing you to control the length of cord extended. The cord is a tough braided polyester fiber, .019" thick.
Storing a plumb bob is one of the most awkward assignments in your shop. The tool simply does not belong in a tool box because it gets abused. We solve this dilemma by designing a rosewood stand that proudly displays the plummet and safely stores the spool and cord away from dust and grime. This tool looks just as at home on a desk or shelf as it does in your shop. It is truly an outstanding design solution.
This tool was produced in 2010.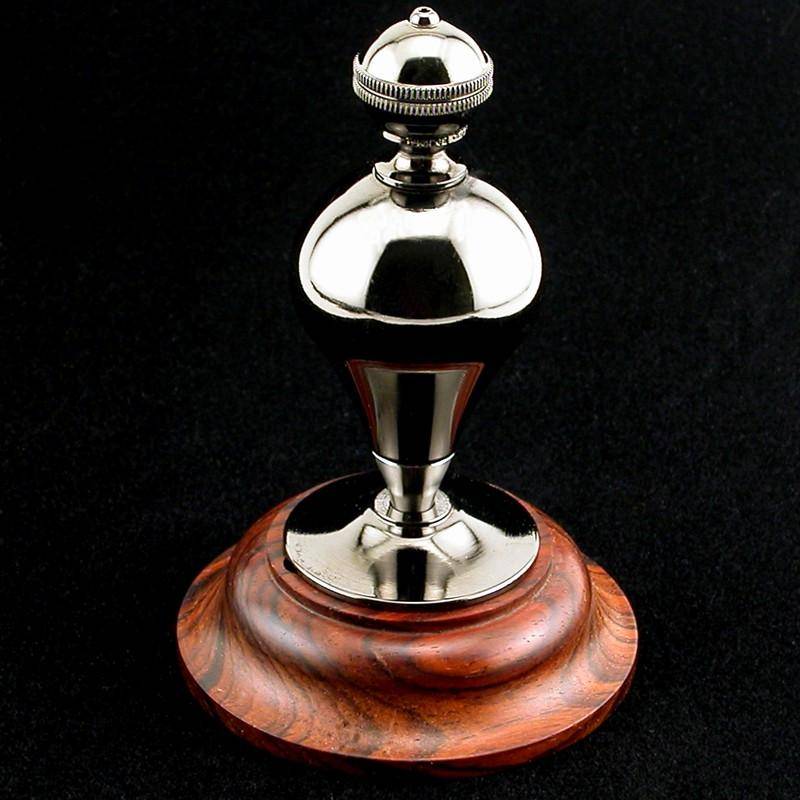 HP-7LE
| LIMITED EDITION STAINLESS STEEL SHOULDER PLANE
As part of our 25th anniversary celebration, we announced a limited edition of 50 Foxtail Shoulder Planes made from solid stainless steel. These planes are stunningly beautiful, and truly unique. It was suggested by a customer that we offer a smaller version shoulder plane as a companion. We consequently "skeletonized" our HP-7 shoulder plane and we produced a limited edition of 50 stainless steel planes.
Each of these Foxtail Planes were hand signed by John Economaki and sequentially numbered. We are confident that this tool, like many of our other limited edition offerings, will substantially appreciate in value in the coming years.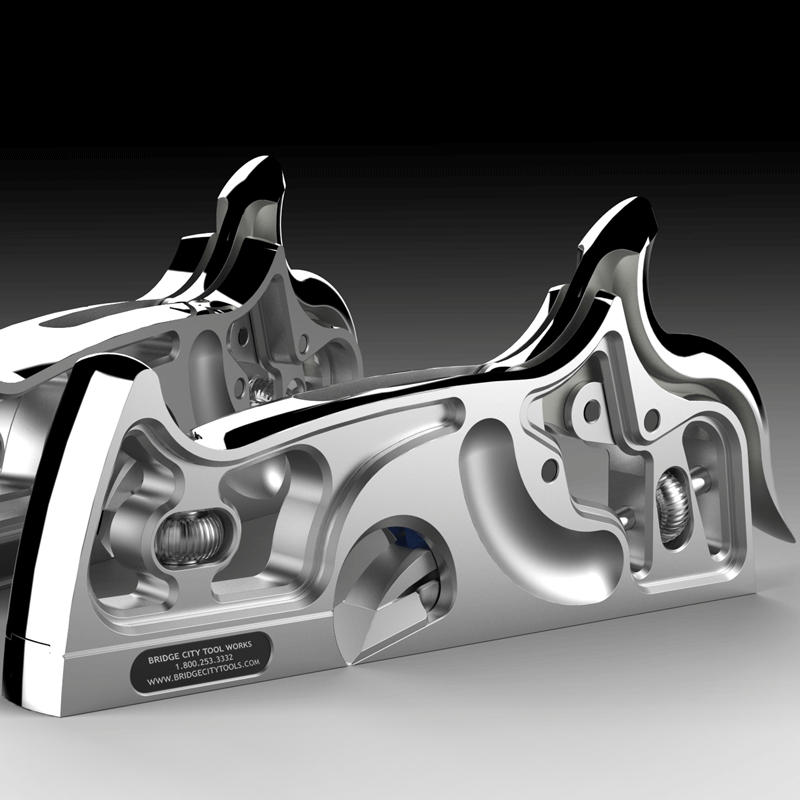 To drill angled holes at any angle, set one of the orange rails to your angle of choice with a t-bevel. The second jaw is aligned to the first by clamping them together with a piece of dowel in the "V" grooves and tightening the second jaw–the dowel will automatically align the loose jaw to the fixed jaw. You will want to position your stock as close to the bottom of the DJ-1 or DJ-2 Drilling Jig body for both maximizing drill depth and accuracy.
Drilling dowel holes in miters are easy, set your jaw angle and you are ready to go. The DJ Universal Jaws now feature viewing ports so you can see your center-line if it extends down either face.
Drilling on the "bias" is ridiculously easy and really only doable through a drill bushing. If your stock is square, the hole will enter straight down the corner. Center drilling round stock/pipe/tubing has never been easier or faster.
The difference between the Universal Jaws and the standard jaws is in this case, the orange jaws can be angled or lowered, either increasing capacity or adding the ability to drill angled holes.